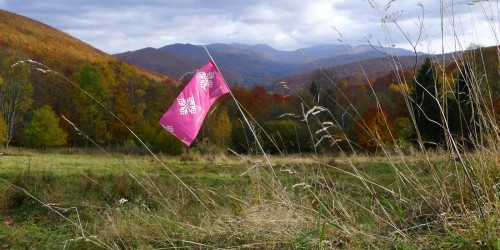 Wybrałem Beskid Niski na swój dom. Tak,tak. Mieszkam w Wysowej, ale na terenie całego Beskidu czuję się jak w domu. Wszystkie zakątki, które odwiedzam biegając, wędrując lub jeżdżąc na rowerze są zakątkami mojego domu. Tak gościnnego domu, że 14 października przebiegło przez jego próg około 500 biegaczy. Łemkowyna Ultra trail  to dla biegających "górali "coroczne zmagania z  jesiennym błotem Beskidu Niskiego i Bieszczad. We wcześniejszych edycjach biegałem Łemkowynę na dystansach 150 km i 70 km. Fajny bieg w doborowym towarzystwie. W tym roku razem udaliśmy się z Józikiem do Mochnaczki i pod Kozie Żebro, żeby filmować zmagania biegaczy. Szczególnie dopingowaliśmy Bartka i Mariana.
Przyznam się, że po kilkunastu minutach fotografowania chciałem pobiec za zawodnikami. Wyłaniające się z mroku na tle oświetlonej cerkwi sylwetki biegaczy wyglądały magicznie. Józik niewiele wyciął z filmu. Film jest dość długi. Może ktoś się odnajdzie. Jeżeli nie to przynajmniej przeżyje jeszcze raz  moment, w którym napierał z Mochnaczki w górę mając przed sobą 140 kilometrów biegania. Szukajcie się. Zdjęcia wkrótce.
Adres filmu:
https://www.youtube.com/watch?v=Sz8LflLKvpc&feature=youtu.be
Wrzucam zdjęcia bez obróbki i wcześniejszej selekcji. Uczestniczę w zawodach i sam z niecierpliwością przeglądam galerie na stronach organizatorów biegów w poszukiwaniu swojego zdjęcia. Ponieważ nie wyglądam na Brigitte Bardot rzadko mam okazję takie zdjęcie znaleźć. Tu macie 127 nocnych zdjęć z Mochnaczki Niżnej. Coś tam widać. Zdjęcia są pomniejszone. Kogo widziałem tego kliknąłem. Jeżeli chcecie swoje zdjęcie piszcie na FB. Zdróweczka.
ZDJĘCIA: